This is a beautiful stainless steel tiles & stone mosaic tiles are made from natural elements. One of this metal tiles many advantages is that it does not cultivate bacteria and germs as much as artificial elements like plastic, fur and other products would. Painted walls tend to retain these harmful microorganisms and that is why we usually go for tiles made from natural elements to protect the kitchen, where we handle and prepare our food. If you want to go for a green arrangement, natural elements are a must. Protecting your family's health is a priority and that is why it is a good decision to go for natural materials, whenever you can.
Tile Features:
Price listed is per sheet.
Material: metal tiles.
Sheet size: 298mm x 319mm
304# stainless steel, suitable for all indoor wall applications.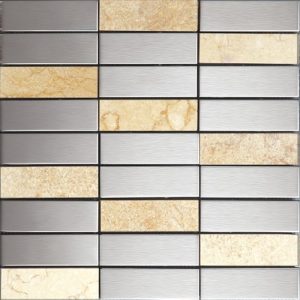 mosaic
tile
metal tile
mosaic
stainless steel
Make an enquiry below: