Tools required for installing concrete pavers

shovels
cold chisel
diamond edge wet saw
wheelbarrow
rubber mallet
straightedge
vibratory plate compactor
trowel
hammer
Materials required when concrete paving

concrete
masonry sand
cinderblocks
pavers
STEP 1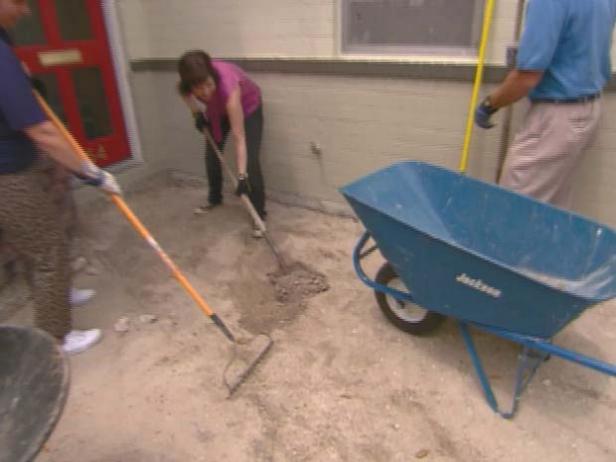 Clear the Area
Before starting any excavation project, contact local utility companies to identify gas and water lines. Using shovels, wheelbarrows and good old-fashioned muscle, begin hauling out dirt and debris.
STEP 2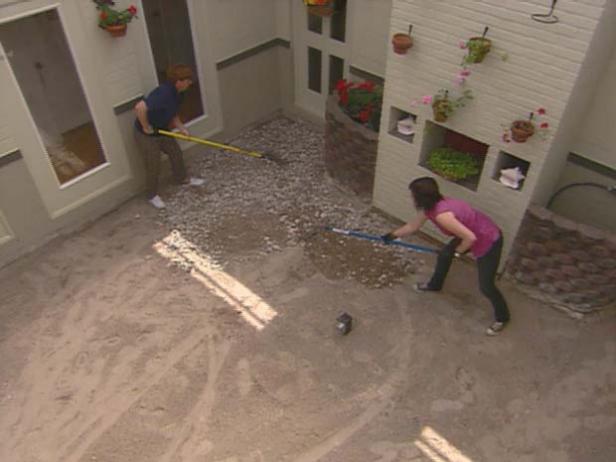 Spread Crushed Concrete well

Once dug to the right depth throughout the courtyard, fill the area up again. Start by spreading roughly two inches of crushed concrete evenly over the soil. The crushed concrete is an aggregate.
STEP 3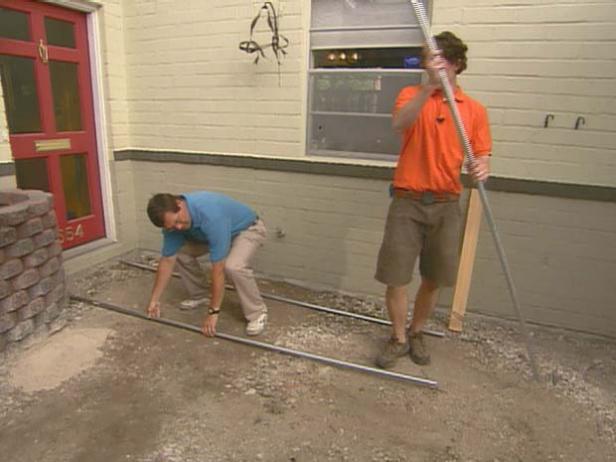 Screed The Sand
Lay out the conduit poles about two feet apart (Image 1). Since you will not be able to walk on the sand once it is screeded, work in small sections (Image 2).
STEP 4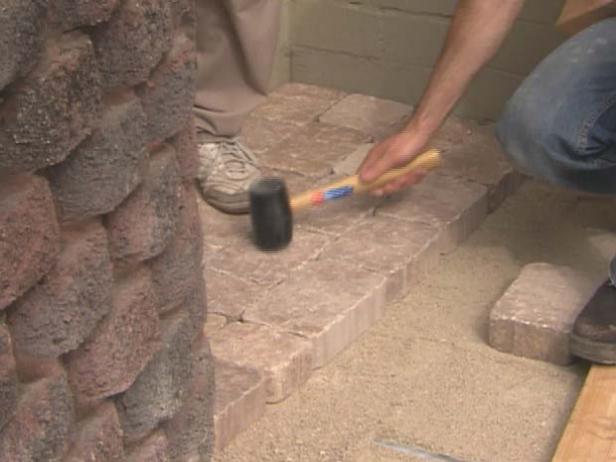 Lay Pavers
Lay the pavers down with the rough surface facing upward. This will give the courtyard more of a natural stone look. Place a straight edge along the length of the pavers just laid. By tapping gently with a rubber mallet, you are able to keep the pavers nice and flat.
STEP 5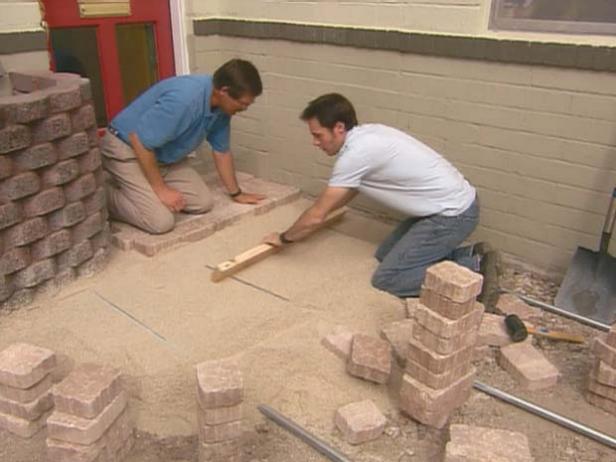 Continue Screeding and Laying Pavers
Continue screeding the sand bed one section at a time before laying the next area of pavers. Once laid, the pavers provide an excellent area to work without upsetting the newly screeded sand bed. Continue screeding and laying pavers, leaving the area for the fountain open.
STEP 6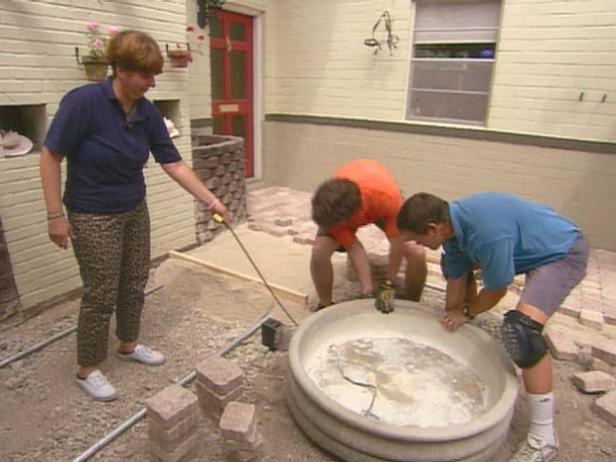 Lay the Fountain Foundation
Position four cinderblocks where the fountain base will sit, making sure they are level. These foundation blocks will help distribute the weight of the fountain and prevent uneven sinking or wobbling. Using a hammer and cold chisel, score the pavers along the line. If there are large areas where pavers need to be cut to size, a more modern technique can be used with a diamond blade wet saw.
STEP 7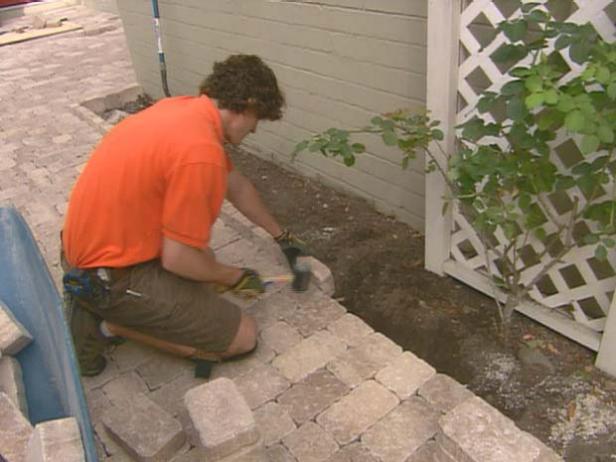 Add a Restraining Wall
Add a small DIY restraining wall along the flowerbeds burring the pavers in an upright position. This is an inexpensive, effective and attractive way to keep dirt and water from spilling over into the courtyard.
STEP 8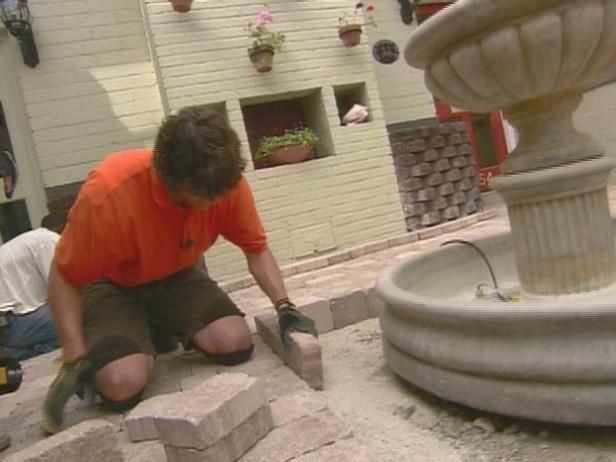 Place the Fountain
After placing the fountain on its new foundation, add a row of pavers to serve as a small retaining wall for the plants.
STEP 9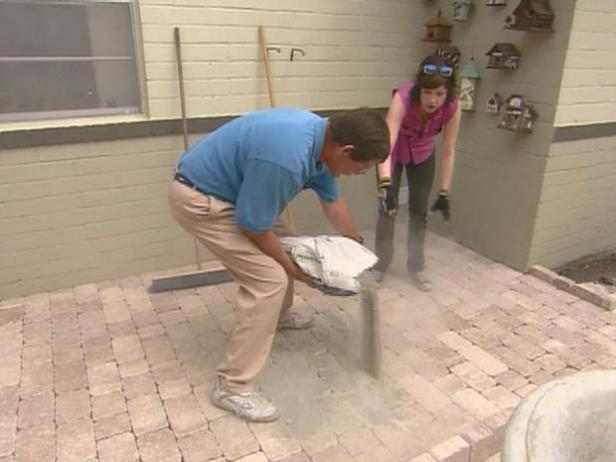 Spread Masonry Sand
Making sure to fill the spaces in between each paver, spread masonry sand across the entire surface. Leaving surplus sand across the top of the pavers helps cushion the surface when you use the plate compactor. The vibration of the plate compactor also helps to fill the joints in between pavers.
FINAL STEP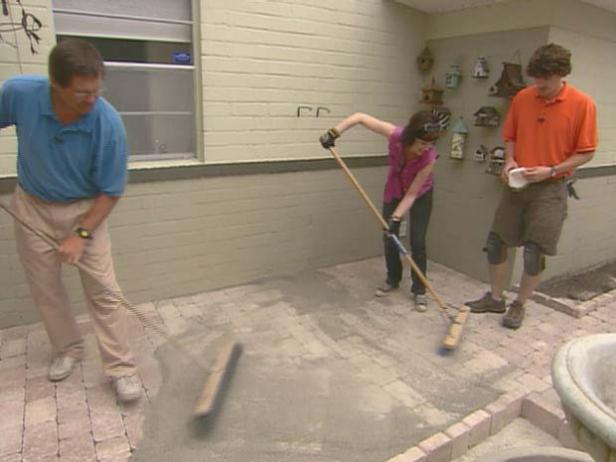 Re-Sweep the Area
Finally, re-sweep the surface with the remaining dry sand. This process may have to be repeated over the new few days as the sand settles and rain compacts it.
natural stone
Make an enquiry below: