A rectangular stainless steel mosaic tiles in a subway pattern. These tiles are made from 316 marine grade stainless steel, suitable for wall applications.
These metal tiles are comprised of a ceramic base with a stainless steel capping. They come on a mesh sheet approximately 300mm x 250mm.  (13 sheets per square metre)
Individual piece size approximately 100 x 50mm.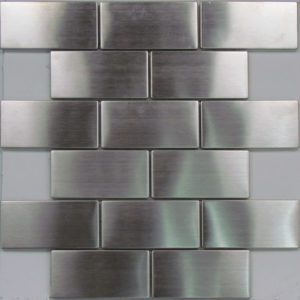 mosaic
tile
splashback
metal tile
mosaic
ceramic
stainless steel
Make an enquiry below: